Cycling jackets are one of the very popular apparel for riders and beginners. Their signature feature helps cyclists stay dry and warm while cycling, as the jackets are constructed of modern synthetic fabrics, along with ergonomic cuts that enhance comfort.
Positioning on the bicycle. Besides, meeting the needs of customers is more diverse, so they often add specific details for each cycle such as waterproof bags, zippers for keys and essentials, high collars to limit and prevent cold wind, adding a long drop tail to help the jacket protect the back and buttocks from water jets from the rear wheel of the car when moving.
Cycling jackets, on the other hand, are equipped with sealed seams, storm flaps located on pockets and zippers, to prevent water ingress, or vents to aid in cooling, and easily removable sleeves and hoods. When you need to limit the area of the shirt, there are two side pockets to keep your hands warm.
To ensure a premium quality jacket, many brands also incorporate breathable microporous membrane fabrics such as Gore-Tex and eVENT, which block rainwater in but allow moisture to escape. This makes the outerwear light and flexible to wear. In fact, jackets can vary in cut as race shirts are tighter and more aerodynamic;
Normal cut often uses MTB but has many limitations when wearing. However, equipping now with a cycling shirt will help you a lot except cycling. In addition, it is also based on needs, type of cycling, and external factors and is necessary to have a suitable jacket. So that you do not have to wait, we present to you some of the popular cycling jackets available today.
1. Softshell cycling jacket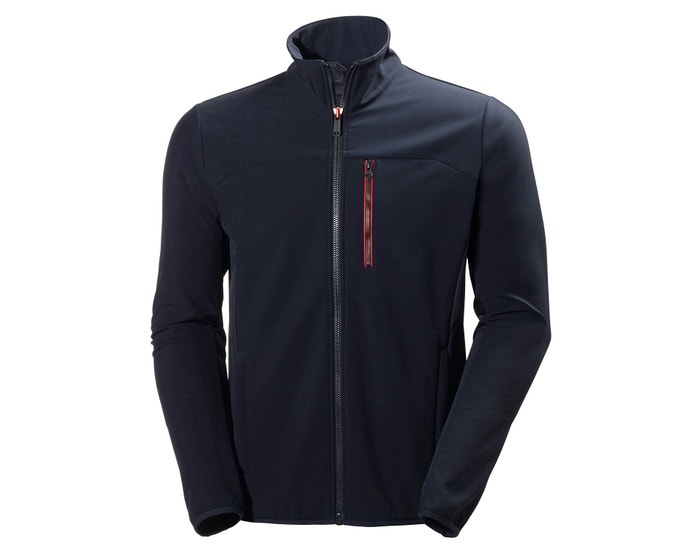 The softshell cycling jacket is known to be one of three types with good wind and water resistance. In addition, they also have a soft construction, light weight, good warmth, breathability and flexibility than cycling jackets made from fully waterproof hard fabric. The above points have created a perfect jacket when going under the rain and wind and inclement weather, but they still ensure to keep the body warm. Along with the above factors, especially each jacket with such features has a combination of WINDSTOPPER technology.
A normal jacket when exposed to wind or inclement weather will not be able to resist the wind, and losing your body's microclimate means the layer of warm air next to your skin. Knowing that Gore created the UNDSTOPPER fabric, they can keep out the wind while keeping your jacket soft and comfortable. This is also considered a high-quality technology fabric with a design to keep out the wind, and at the same time to help sweat after activity escape and always stay dry.
On the other hand, the WINDSTOPPER is a laminate that is sandwiched with different weaves to make a single fabric. In addition, WINDSTOPPER laminate is known to be a lightweight, flexible polymer because the fabric is composed of more than 1.4 billion microparticles per square inch. And they have a greater capacity than water vapor molecules, which is why outgoing water vapor can easily pass through them and disperse quickly into the air.
Obviously, this fabric is not waterproof. In general, during manufacturing, this fabric is laminated with fleece, to provide effective insulation and wind resistance. Because they're less breathable than fabric-covered fabrics like Polartec (which doesn't use laminates). However, they are more breathable than waterproof fabrics constructed with water-repellent Gore-Tex.
What's more, there's a cycling jacket that adds cover, so you don't need to coat either. In contrast to a hard shell cycling jacket, this hard shell waterproof jacket can be worn as the top layer of the jacket, similar to a thin jacket and sole like the Under Armor layer. Every cover will have a different look. They will usually have an outer layer and a middle layer, thanks to which this can keep the elements from getting wet, the heat retains and the insulation increases keeping warm.
On top of that, the softshell cycling jacket is softer and more flexible than other types, making it suitable for outdoor activities like cycling and climbing or aerobics in changeable weather. At the same time, the soft shell can be put on a base layer when it gets cold. Plus, you can also bring a lightweight, lightweight waterproof jacket for the occasional downpour. And the softshell cycling jacket is a great choice for spring and fall cycling.
2. Hardshell cycling jacket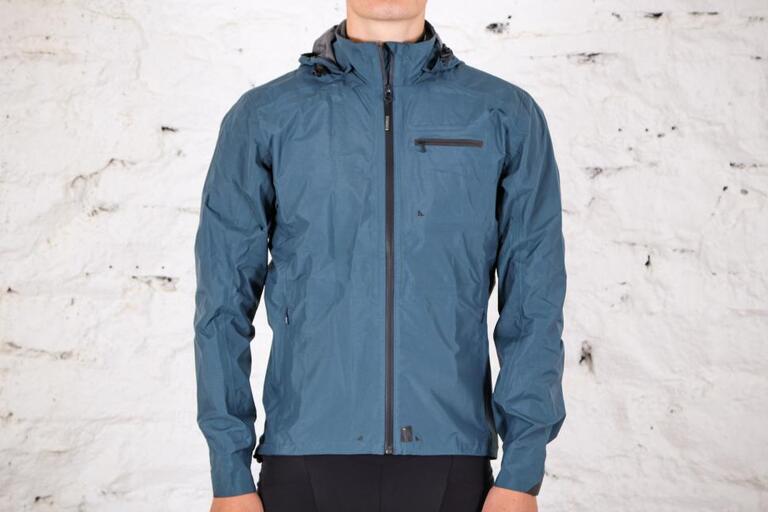 Next we would like to introduce to you a very popular type of cycling jacket that is the hard shell cycling jacket. Along with the characteristic mechanical properties of the hard shell, thanks to this, it provides excellent water resistance, wind resistance and breathability.
Mostly, riders use the hardshell cycling jacket in inclement weather and are mainly worn in winter. However, the hardshell cycling jacket cannot keep warm because as a rule of thumb, it is advisable to wear multiple layers of clothing when cycling. Plus, hard coats will have outer layers to keep out rain in cold and inclement weather, then you'll wear layers of insulation underneath to help keep you warm.
On the other hand, the advantage of the hardshell cycling jacket is that it helps prevent rain from entering the body, while at the same time dispelling the water vapor generated by the sweat of the cyclist. From there, they are very breathable and impervious to water.
According to research, rain and sweat are similar, so brands have created a special thing to put small holes in the fabric. And water vapors can escape to the surrounding because the water vapor molecules are not bound together, so smaller, non-coherent molecules can pass through the small holes. In contrast, water molecules are bound together and are larger so they cannot penetrate.
For the softshell has WINDSTOPPER technology, the hardshell has Gore Tex technology, so what technology is this? Known as a waterproof and breathable technique, widely used and applied in 1978 by the W. L. Gore corporation combined with laminate technology, since then it is the new fabric Gore Tex.
Many markets apply this fabric in the production process because the fabric is associated with the brand, so when it comes to them, they don't call the fabric waterproof and breathable, but collectively call it Gore Tex. And this is not the only company that makes waterproof and breathable products like this. In general, you can imagine that Gore Tex is a nylon and polyester face fabric, then laminated with a special Gore Tex film; where they include a variety like GORE-TEX® Pro, GORE-TEX® Active and regular GORE-TEX®.
Whereas Active Shell is a new form of Gore Tex membrane, they are almost designed for quality breathability, highly effective water repellency, strong wind resistance and light weight. But the manufacturer still offers a number of soft and lightweight fabric models called Paclite®. This form of fabric is usually light and effective water repellent, but it is not breathable for the wearer. They were eventually replaced by the latest products like Gore-Tex, Gore Bike Wear Oxygen 2.0 Jacket. Known to be made of Active Shell fabric and is more breathable than Paclite fabric. Nowadays, they are quite popular but they are expensive.
3. Fleece cycling jacket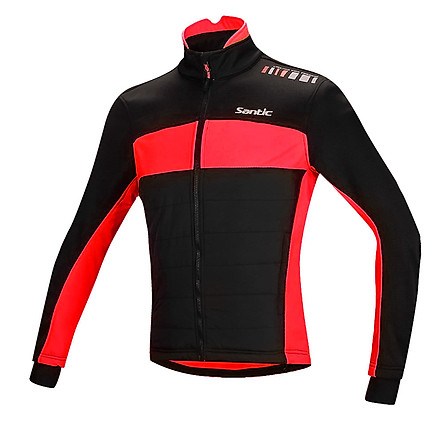 The fleece cycling jacket is known for being a lightweight casual jacket that is constructed of polyester synthetic wool similar to polar fleece. In general, the fleece cycling jacket will have a zipper in the middle, unlike other jackets that have buttons or straps. Besides, they also provide insulation, but if inclement weather will not withstand such as avoiding strong wind or rain.
In 1979, the Malden Mills company developed a fabric made from a combination of synthetic fibers and sheep's wool. These synthetic fibers increase the effectiveness of heat retention, while wool provides a warm feeling. And it's not really the wool that makes the jacket light. The fleece cycling jacket is very suitable for keeping warm, on the contrary, their advantage is less protection from wind and rain.
Conclusion
A cycling jacket is an accessory in cycling activity because they are not just a regular jacket, but a jacket that has good waterproofing when the weather turns bad. As you know that cycling is quite popular not only in daily activities but also in cycling races on terrain such as road or cliff road. Check out the information on the cycling jackets that gearinstant have just provided.
All the advantages that the cycling jacket offers improve comfort and confidence for you and your family and friends. For them, not only protect you under heavy rains, but also keep the body warm and stabilize the body temperature, avoiding fatigue.