Have you ever heard of the term "bike stand" or "bike rack"? If the answer is no, you have come to the right spot. These terms are always among the most-searched ones for cyclists. In the following sections, we are going to explain thoroughly what exactly a bike stand is as well as how you can use one correctly and effectively. Let's now keep you waiting no more and get started!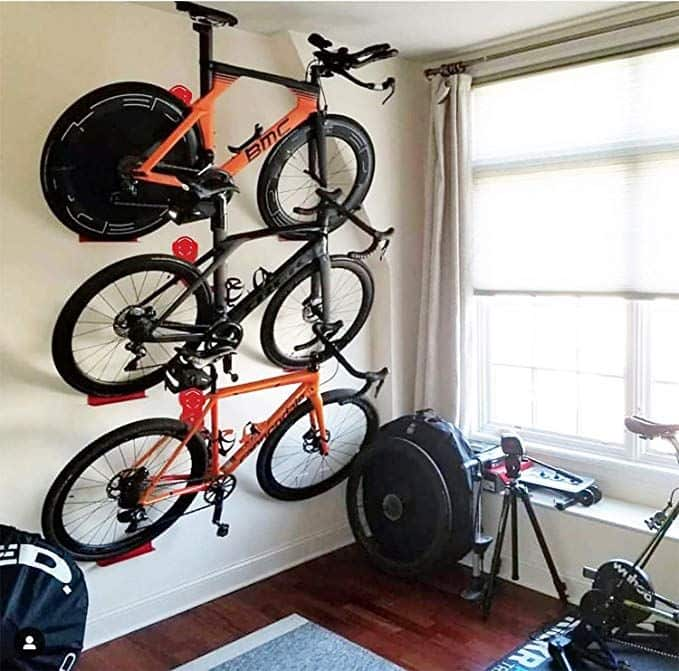 What Is A Bike Stand?
A bike stand or so-called bike rack is a device that mounts your bicycle, which can vary in different ways (coming in explanation in the upcoming part). The major purpose of a bike stand in both public and private spots is to become a parking spot for your bike.
If you are wondering why a bike stand has anything to do with parking slots, take in this information. The bike stand is another name (of course the shorter version) for a bicycle parking rack. That's the relation between these nicknames.
However, the bike stands are not only applied for parking purposes but also for repairing ones. They can get really handy in garages or at home. They are pretty much lightweight and portable, which makes shoppers favor them in many cases.
So who will use bike stands? The answer is everyone who rides a bike or repairs bikes. This is because the use of bike racks is universal, and there is no reason why people cannot take advantage of such designs.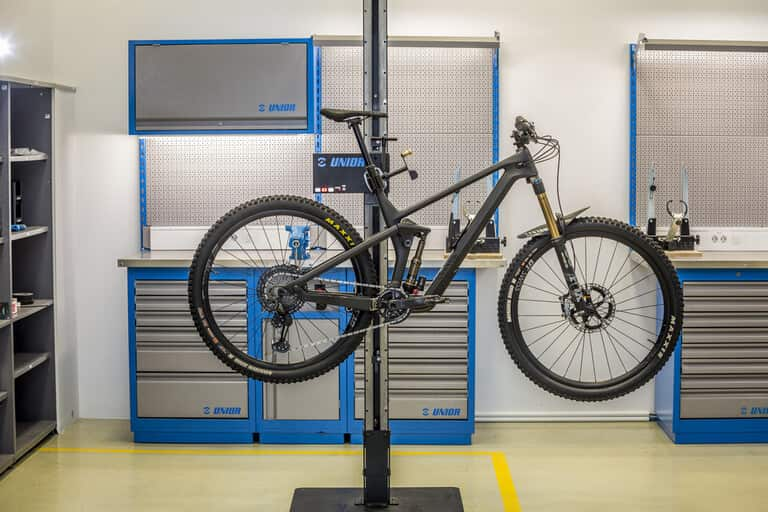 More about bike stands
Let's take this discussion a little deeper to get a general outlook of the bike stands.
Mounting styles
There are several styles of bike racks to mount your bicycle. They are:
In-ground mounting: your bike will get planted into the ground. This is the most secure way to prevent your asset from theft and vandalism. There will be pins or locks to secure all the parts needed.
Surface mounting: the surface style is almost resembling the in-ground one. The only difference is that the bike stand has a concrete surface beneath the wheels. This is also a secure mounting style that we highly recommend for cyclists if there is any chance of them leaving their bike out of sight in the public.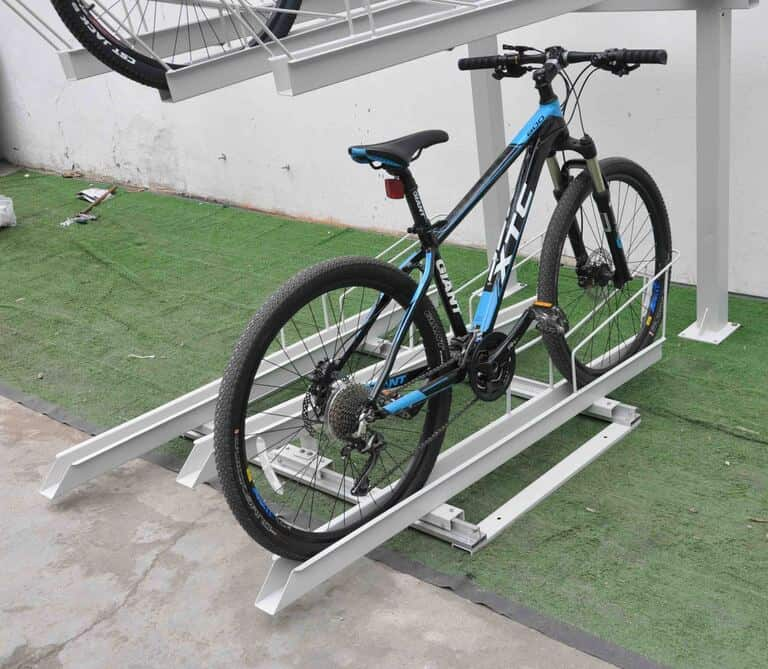 Rail-mounting: the third mounting style sounds a bit unique. The name may have revealed its appearance or at least given you a glimpse of what it may look like. The rail-mounting style is favored because it saves time, space, and labor.
Wall-mounting: the wall-mounting is muchly speaking for itself. It hangs your bike up the wall with secure locks to protect it from theft and damage.
Removable mounting: some bike stands are built with removable parts (mostly instantly and temporarily). They are very popular with the public for their flexibility and convenience.
Notes: in-ground and surface mounting styles are more relevant in the public while others are showing up more in private parking or shopping malls.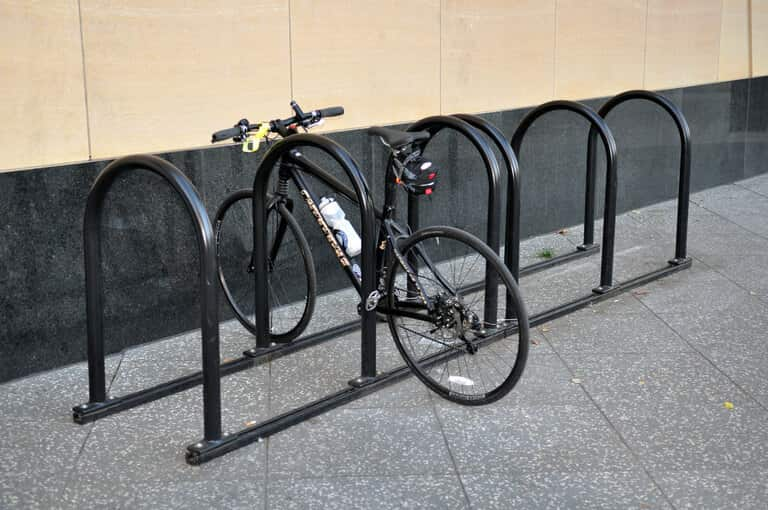 Materials
Most bike stands are made from stainless steel, iron with a powdered coat, or recycled plastic. Thermoplastic is also applied in bike rack manufacturing. Each material type will have its pros and cons. You are likely to see metal racks almost everywhere from indoors to outdoors, public to private. The plastic bike racks are not the most favorable because of their vulnerability (on a scale with metal) against physical forces and weather conditions.
How to Use A Bike Stand in The Right Way?
Here is our major part in the discussion of how to use bike stands correctly. In this section, we will divide it into two groups, one for parking, and one for repairing.
For parking
We have another two smaller sections divided for detailed instructions, which are in-ground and surface, and the other mounting styles.
In-ground and surface
#1. Choosing your spot is more important than you think. Choose a perfect spot and park your bicycle there.
#2. Get the bike into its right position and look for if there is any secure pin to lock up your bike.
#3. Take your bike lock out and secure the wheel for solid protection
#4. Double-check the spot and make sure your bike is locked carefully. Leaving a note of ownership or warning is advised.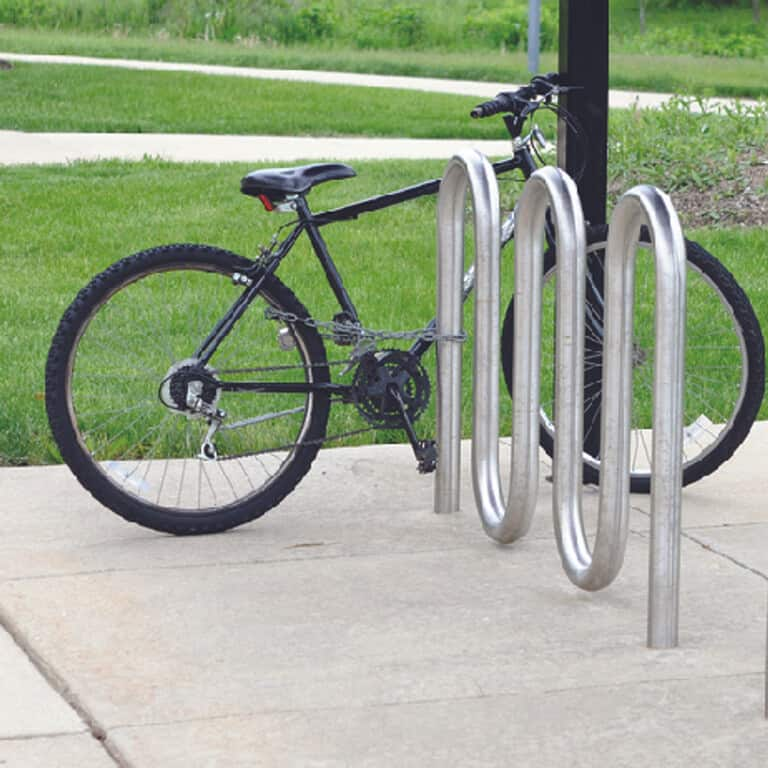 Others
#1. Do the same as the first step, which is to choose your spot. The hanging racks are usually used for indoor and private parking slots. Hence, choosing one safe place is not the biggest issue here.
#2. Check the structure of the bike stand and look for its mounting bracket. There will be a secure lock there to hold your bike. Find it and start twisting.
#3. Secure the bike frame with the mounting bracket and lock it up. You still need an extra bike lock, no matter what bike stand you are dealing with. Lock your bike carefully and double-check. That's all you need to do!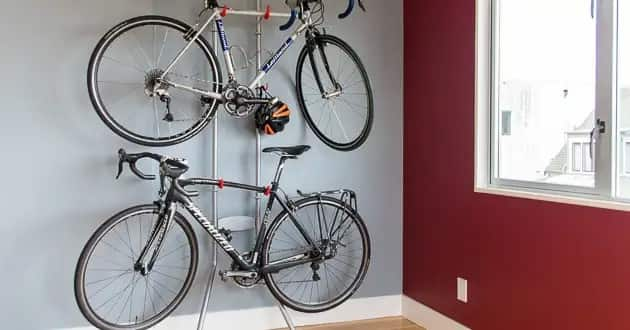 For repairing
If you are using bike stands for repairing bicycles, you will need to acknowledge the wall mounting and its variations only (the same style but do not need a fulcrum).
#1. Take out your bike stand first. Studying its construction is highly recommended.
#2. Follow the manual instructions you are given by the provider and get it up on the ground.
#3. Check the secure mounting brackets and hang up your bike. Secure the frame with its lock.
#4. Double-check and get into your repairing tasks.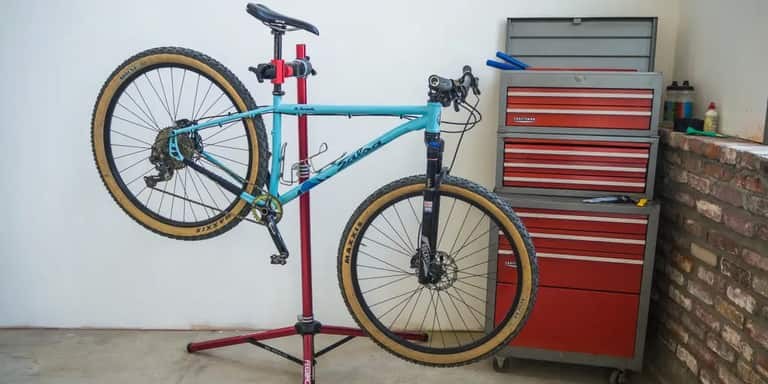 The guide on how to use bike stands is simple as it should be. That's all of the instructions you need before using a bike stand (aka bike racks). Next will be our tips for choosing bike stands. These factors will mostly be applied to those who are using bike stands at home for either parking or repairing purposes.
What to Consider When Choosing Bike Stands?
Materials: This always comes first in our list of criteria for any product or device. The bike stands do not make an exception, considering the selection standards. For such items, we will do with metal, particularly stainless steel or coated iron for their solidity and extremely low vulnerability. They will more likely be valuable for the money spent with a longer lifespan.
Weight: There can be nothing more troublesome than a heavy bike stand to store in the house. It is hard to move around and store or maneuver when in need. But the lighter the better is not our case here. You should go for some stands from 4 to 5 kilograms. And their capacity should vary somewhere near 100 kilograms.
Ease of maneuvering: For those who repair bikes, this can make a game changer. Ease of maneuvering helps save a lot of time and effort. And you know the old saying goes, time is money.
Durability: Once again, we recommend the metal bike stands to use indoors and outdoors because of their solidity and durability. They will stand well under the weather conditions, heat, and watery contact (for stainless steel). But it is also crucial to take great care of our bike racks.
Price range: The last factor you should pay attention to is the price range. We suggest that shoppers go for bike stands from 60 dollars to 100 dollars. This is a pretty good price range with lots of high-quality products.
The Bottom Line
A bike stand is versatile and workable anywhere. Thus, it is no surprise when we witness increasing demand for bike racks these days. Hopefully, you have gathered all the useful information in terms of how to use a bike stand, for whatever reason. Lastly, don't forget to check our criteria for choosing bike stands. They can really be handy when the time comes.