If you have a habit of cycling in the early morning with thick fog, or on changing seasons such as cold autumn, early spring. Keeping the body warm is also very important not only for your head, arms, hands, body but also your legs because this is the main place of activity to take you to places.
So you must invest in a pair of cycling shorts now. In general, cycling socks are thin and fit because the shoe fits snugly. Furthermore, most cycling shoes will be designed to be rigid so that the force of the foot is transferred to the pedals, most cycling shoes are also designed to fit snugly so that they do not slip or become less stable when cycling. . That is why cycling socks that are all the right size for cycling shoes can't give you the comfort you need in thick and wide socks.
Cycling socks are similar to aerobics socks, they were constructed with a wicking material that dries quickly when wet, reducing discomfort from sweaty feet. On the other hand, some cycling socks have mesh vents at the top to keep feet cool and breathable. In addition, some socks have compression bands around the arch, designed to provide a better fit.
However, the choice of cycling socks is also based on the needs and feelings of the cyclist. Plus, to increase overall comfort on the bike like your position, kit, and point of contact. Currently, with the advancement of thousands of industries, the creation of high-quality cycling socks. Without keeping everyone waiting, below is some information on how to choose cycling socks.
1. Materials of cycling sock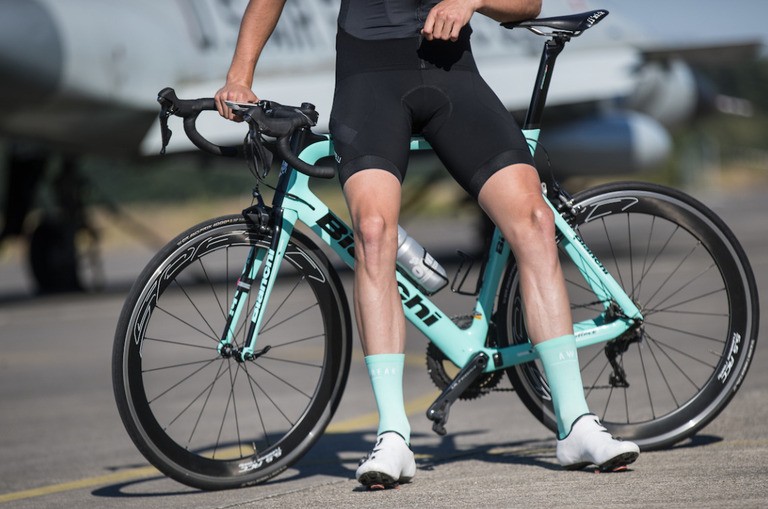 In general, all cycling socks will use mixed fabrics, due to their good breathability, moisture absorption and comfort.
Polyester: is a synthetic fabric from wool, they have the ability to absorb sweat quickly. Know, however, that wool is made of sheep's wool, and polyester is a petroleum-based fabric that is heated to form a syrupy mixture, then hardened and spun. Therefore, overall, the material will be softer than wool.
Nylon: similar to polyester, they are also composed of petroleum, so the nature of the fabric is also soft, elastic and durable. Therefore, they are also commonly used by manufacturers to improve the performance and long-term use of the material.
Elastane: aka Lycra and Spandex. This is a very breathable, moisture-wicking fabric, but in the process of construction, this fabric needs some additives to make the socks stretchy and be able to shape the socks after many uses and washing them.
Currently, synthetic fibers are preferred over natural fibers. Moreover, the higher the number of threads, the better the color fastness of socks if used for a long time, less fading. In addition, synthetic materials will have antibacterial fibers or antibacterial techniques woven directly into cycling socks to improve the balance of bacteria levels on the user's skin. Thereby, it will reduce the risk of skin irritation, especially prevent sweat when cycling long distances.
2. Types of cycling socks
Road cycling sock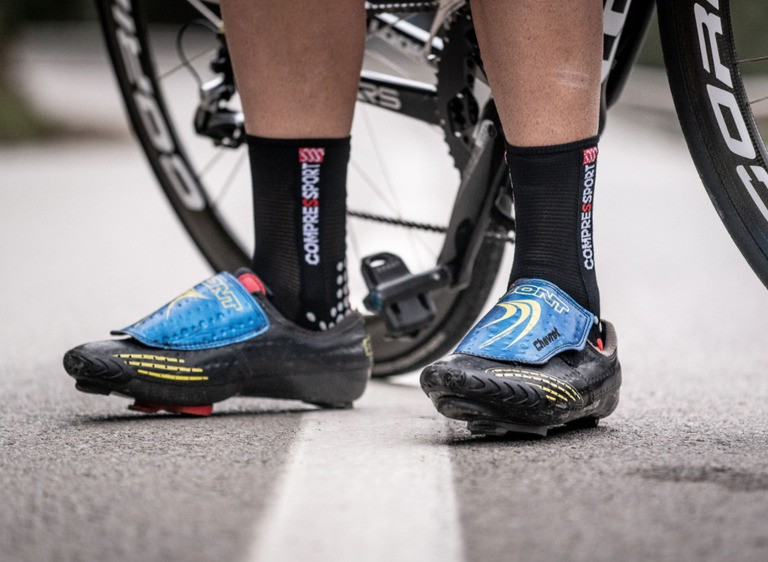 The road cycling sock is usually designed for racers and is built with performance in mind. From there, the road cycling sock has good breathable material. Some brands of the road cycling rock that are widely introduced, such as Swiftwick Aspire socks, will have thin layers of padding and easily create compression into the recesses of the foot. Or Coni's socks are also made from Coolmax fibers, increasing moisture absorption and drying quickly. Elite socks made of ELITE Transfer material also have fast drying and high-performance compression. Almost all the road cycling socks will have a quick drying feature, and are also sized up to a quarter of your calves for professional riding style.
Wool cycling sock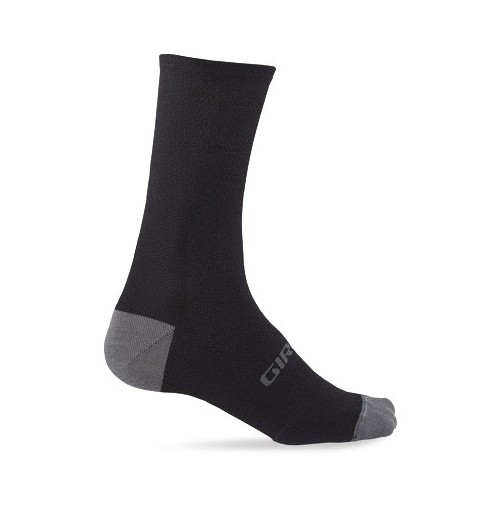 The wool cycling sock is often used in cold weather, winter to help keep feet warm and dry. Some brands such as DeFeet are very popular in the production of wool cycling socks (they are also known as woolen Boolie socks) because of their ability to provide good breathability and durability, these socks often have size 6 inches long to ensure your warmth. Sockguy socks are 12 inches long and feature a special mesh upper to allow for efficient ventilation.
Compression cycling sock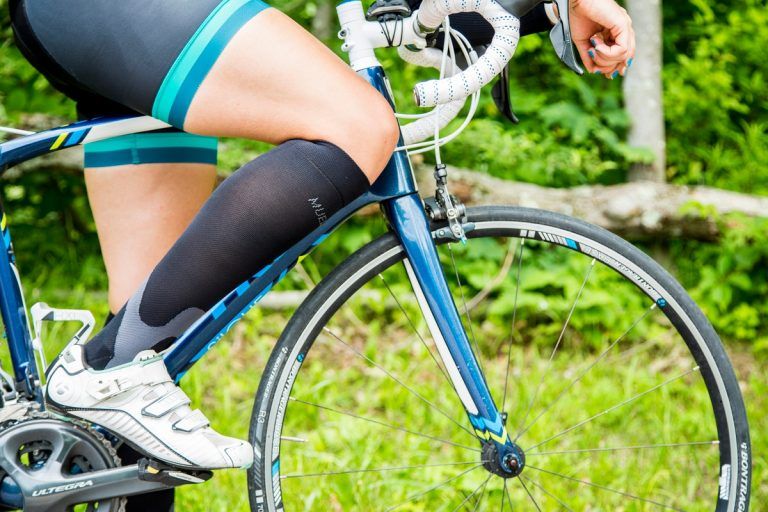 The compression cycling sock is a sock measured in millimeters of mercury (mmHg), the higher the number, the higher the compression. Know that Swiftwick Twelve has a reading of 15-20mmHg and is odor resistant and helps limit swelling during recovery. The Mojo Coolmax socks also offer 20-30mmHg compression, but you should test which compression is right for you.
3. Waterproof cycling sock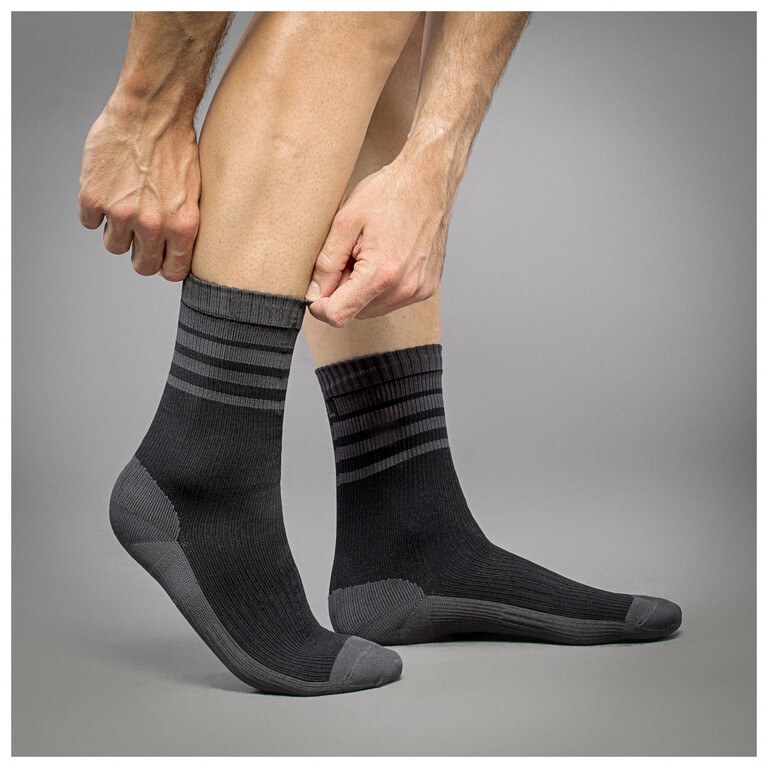 A pair of waterproof cycling socks is your partner in inclement weather and snowy trails. Good waterproof cycling socks are made of a hydrophilic film, with a microporous layer that blocks water but still allows moisture to escape. Even if you invest in a good pair of cycling shoes that still leak during heavy or continuous rain, to limit blisters and wet discomfort, a pair of socks will do for you. In fact, waterproof socks are made up of three layers so they will be thicker. But the important point is still the stretch and fit to your feet and cycling shoes.
4. Snug fit of cycling sock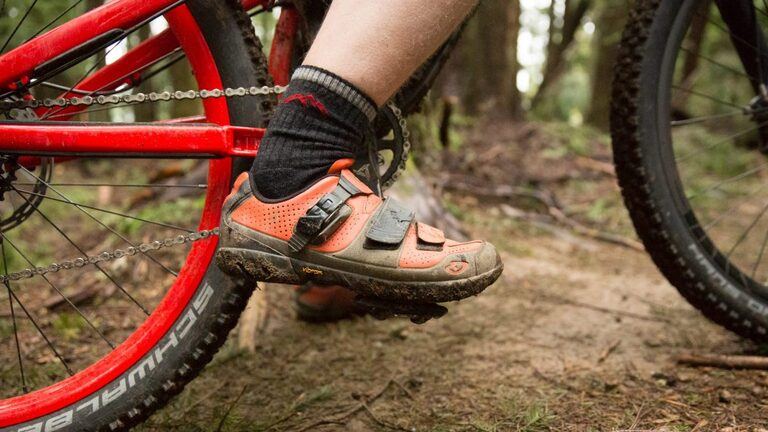 When choosing cycling socks, you should also pay attention to the tight fitting nature of the sock since the combination with the seamless design and high thread count, this will create less pressure points due to the influence of Micro vibrations and seams inside the sock's lining. This results in optimal comfort during long-term operation. In addition, the snug fit ensures the product stays in place when you're cycling and promotes blood flow to the extremities, in addition to limiting symptoms of swelling.
5. Length of cycling sock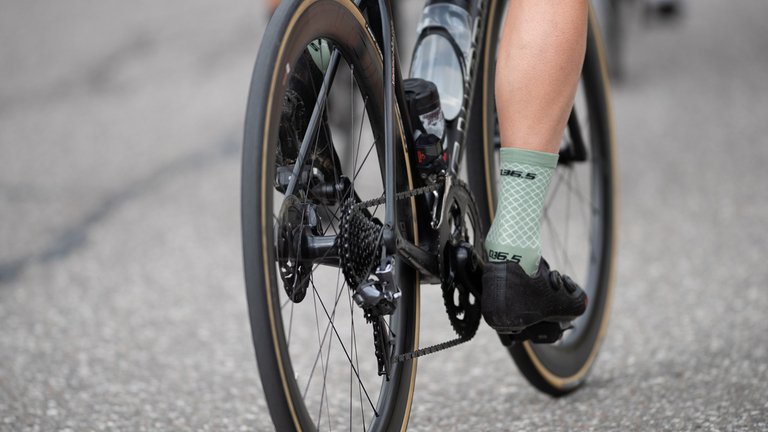 The length of cycling socks is also a factor to pay attention to when buying a product. On the market today, several brands are available in sock lengths such as Swiftwick and DeFeet and they offer sock heights from 1-12 inches, i.e. ankle to ankle, or knee high. If you choose longer socks, they will adjust to a warmer temperature for your feet.
On the other hand, in addition to ankle-length socks, mid-length socks are also a popular choice with racers. Because they support the foot and ankle without being too high or too low, limiting collisions. Besides, long socks also create a high aesthetic style, creating space to improve the definition of the calf muscles.
The choice of the length of cycling socks is also based on individual needs. In general, some performance-focused cyclists can combine them with high socks, which will facilitate aerodynamics. If you're a mountain biker, a pair of long socks will help protect your ankles and shins from brush, gravel, and dirt.
6. Measure the cushioning of cycling sock
The next point to note about the amount of cushion placed in cycling socks, if for other sports socks standard placement and even distribution of cushioning will help absorb shock as much as possible.
However, with cycling socks, often when moving, the feet can only be in a single position, so to avoid discomfort, wearing thin, tight socks will be more beneficial, allowing for efficient operation. than. In addition, most cycling socks are designed for comfort by improving contact with the cycling shoe.
Plus, the slim weight of cycling socks enhances pedal performance and saves energy by promoting greater haptic feedback. On the other hand, choosing the wrong shoes and socks can cause blistering and nerve pain. And if you wear too thick padded socks, it also affects the contraction process and affects the sensitive nerve endings in the feet.
7. Ensure the temperature of cycling sock
The amount of heat in cycling socks will partly reflect the choice of material to make the product. It is not obvious that we mention this factor, for cyclists in the summer, the more you are active, the more sweat is produced, so socks often have moisture-wicking features made of materials.
Synthetic, by directing sweat from the soles of the feet to the outside of the shoes, and then to the wicks that have a high-temperature cooling effect. In cold weather, choosing cycling socks made of natural materials such as wool will be effective for good heat control. Especially those who intend to choose wool socks should pay attention to Merino wool, in addition to its natural ability to absorb moisture, but a small layer of breathable activity called a heat zone is retained close to the skin to ensure that your feet are kept warm.
Conclusion
Cycling socks are one of the must-have accessories when cycling because of their many benefits, not only keeping your feet dry in the summer, kept warm in the winter, but also increasing the fit to improve performance. between cycling shoes and cycling socks. In addition, it helps cyclists avoid injuries caused by rocks, dust, or snow on their feet, which reduces the quality of the ride. Finally, adding useful accessories to your cycling collection.