Climbing is one of the experiences and discoveries that any young person wants to do, even once, especially those who are passionate about extreme sports. No matter how long or short your journey is, it is indispensable for foods to help you recharge. Climbing is a high-energy activity, if you spend all day climbing, it means that constant refueling is essential. So what delicious and convenient food should you bring when climbing the mountain?
Here, we provide some ideas of food for climbing.
1. Dried nuts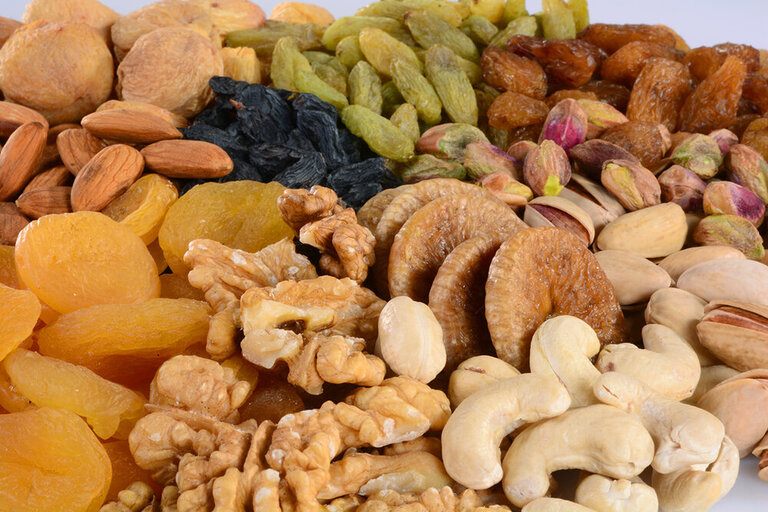 You are someone who likes to snack constantly during the climbing session. Dried seeds are a great choice for you. There are many types of dried nuts you can choose from such as almonds, cashews, ... These are all high-calorie, delicious, and special, you can easily carry. Moreover, they are small and easy to eat during the climb.
Continually eating these nuts keeps you energized, helping you get the most out of your climbing session.
2. Granola Bars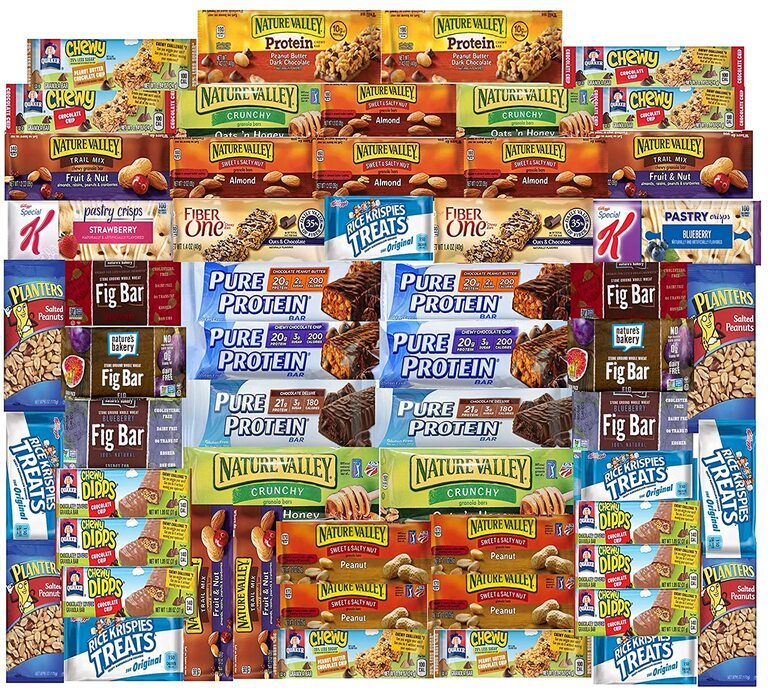 This is a type of food, processed in the form of long rectangular bars, used as breakfast and snack foods. It is compact and easy to carry.
The ingredients in Granola Bar are extremely diverse depending on the preferences of the eater. In the Granola Bar, in addition to oats as the main ingredient, there are also dried fruits such as raisins, strawberries, bananas ... Besides, there are nutritious nuts such as almonds, sesame, olive ... binder such as sesame oil, olive oil and natural sweeteners such as honey, salt, spices.
This is one of the options for snacks during the climbing journey.
3. Candy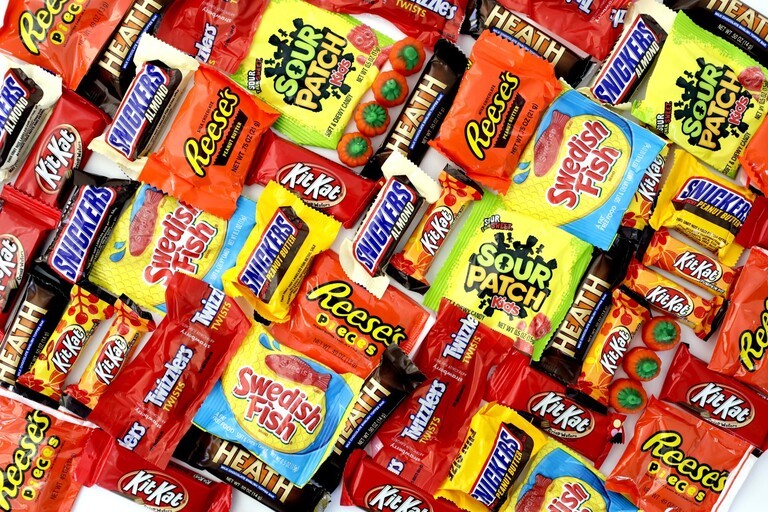 Candy is a great snack when climbing, especially for short hikes or climbing in the gym. Basically, the sugar content in candy is quite a lot, candies quickly provide an energy source, providing sugar for your body to use right away.
Moreover, with an attractive taste, it also helps you to increase your alertness, regain your spirit and alertness, and concentrate.
However, you should not eat too much candy, because if you eat too much candy, it will be harmful to your health and teeth.
4. Fresh fruit
You want to feed your body with sugar, but you prefer natural foods over cakes and candies. Fresh fruit is your choice.
Fresh fruit gives you a source of nutrients that many snacks cannot provide. Because fresh fruit contains a lot of water, so in addition to providing nutrients, it also provides water for the body. Its composition is mainly vitamins, nutrients and sugar.
Fruit is often larger in size than other snacks such as candy, nuts. So, you can choose to bring the fruits according to your preferences. When climbing, you should choose ones that are easy to carry in your backpack, like apples or oranges, or can be stored in boxes.
5. Dried fruits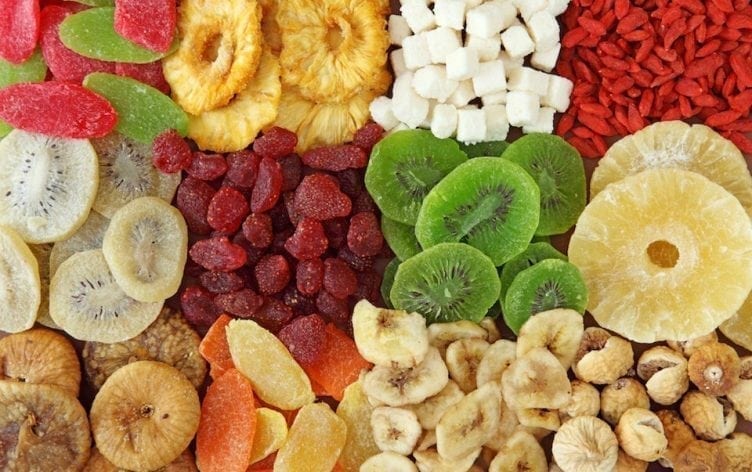 Dried fruit is also a food option for climbing. With completely natural ingredients from fresh fruits, dried fruit is a dish that is a new variation of fresh fruit, giving us a new taste that is delicious, sweet, crunchy, attracting a great deal of attention. everyone's favorite.
This product also contains many nutrients, but lacks the water content of fresh fruit. But if you participate in climbing with high mountains, or long journeys, then dried fruit is a better choice than fresh fruit, because of the preservation problem it brings.
6. Sandwich with peanut butter and jam
The peanut butter and jam sandwich is a familiar dish and a quick, simple snack to make. Just by using a knife to spread peanut butter or jam on sandwiches, you can enjoy them.
You can absolutely prepare them in advance from home, or bring the ingredients. Because its ingredients are easy to carry (just sandwiches, peanut butter, jam to your liking) and you can make it during your break. You should only take a moderate amount of peanut butter to carry, avoid during the move, the butter spills out before eating.
You can also prepare this dish the traditional way or get creative by adding other delicious, unique ingredients.
You can make sandwiches unique by adding crunch. Just add crunchy cereals, pretzels, or crackers. The benefit of adding whole grains is that they provide more fiber and other nutrients and make food a healthy choice. Moreover, bringing cereal, pretzels, or crackers are also snacks you can eat during the climb.
7. Chicken skewers tzatziki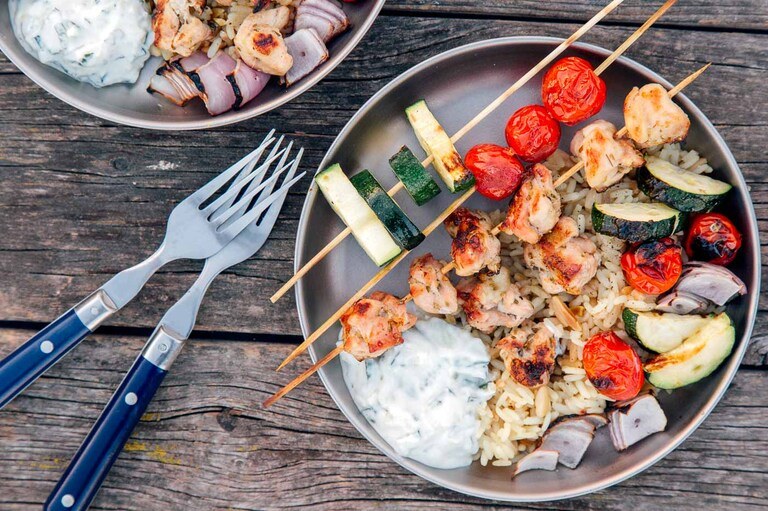 The choice of food from meat to bring you should also consider. You need to get enough nutrients for your body. These grilled chicken skewers are one of the dish ideas you can consider.
These grilled chicken skewers are Greek inspired, with tzatziki sauce that can become a quick snack that you can prepare quickly from home or at rest. This formula is very simple. Just cut vegetables and chicken and make (or buy) tzatziki sauce. If you join a long climbing journey, you can grill it when you stop to rest. All you have to do is install a grill (or light a fire) and grill a skewer.
8. Shrimp coated with foil
This is the perfect dinner recipe for a hike if you're up for the long haul. Just add your favorite foods like shrimp, smoked sausage, corn, avocado, and zesty lemon, using foil inside. And all that's left is to place them on top of your heat source. Campfires, charcoal, propane grills, whatever.
9. Mexican-style grilled corn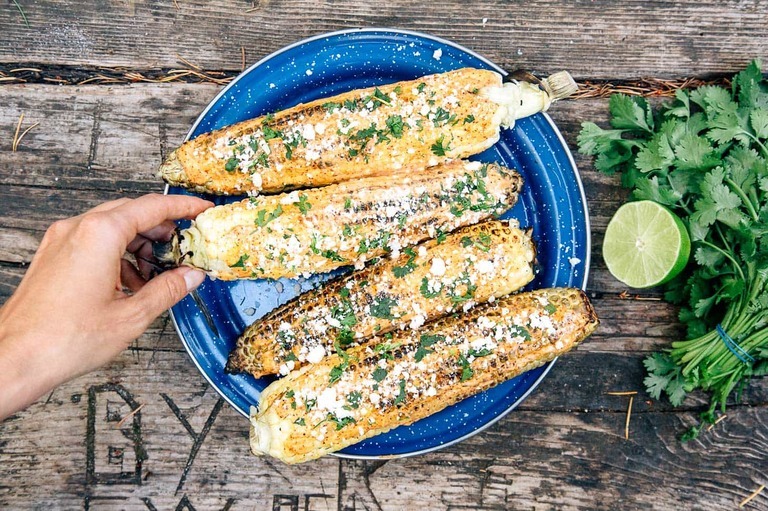 This is a quick and easy recipe that you can prepare from home.
The corn is coated with an elote, consisting of mayonnaise, crema, shredded Cojita cheese, salt, chili powder, and lime juice.
You just need to wrap them in foil or put them in a box and take them with you. It is delicious and gives you a lot of energy.
10. Seaweed rice rolls
This will be a dish that you should spend time making, but it is very delicious and full of quality. This dish is loved by many people, from children to adults. To make this dish, you should buy Korean seaweed leaves. Rolled filling includes sticky rice, eggs, cucumber, carrot, and sausage.
If you want to make the rice roll more beautiful and evenly, you need to use a roll mold. Note: You need to put the rolled rice in a sealed plastic box to prevent the kernel from falling off while you are moving.
11. Energy drinks/ Carbonated drinks
An energy drink is a type of stimulant drink, usually including caffeine, marketed as a mental and physical stimulant. Products are either carbonated or non-carbonated and most often contain sugar or other sweeteners, herbal extracts, taurine and amino acids. Most sports people use this drink, because of the energy it gives. It makes you more alert and less thirsty.
This is also an idea you can take with you. However, they should not be overused.
Conclusion
With today's hectic lifestyle, a hike is probably the best way to relieve stress and recharge everyone. It is very important to prepare and carry fast and nutritious food with you. Depending on the travel time, location and number of people to have the most reasonable preparation.
Hopefully the information and food ideas gearinstant provide will help you have a complete and meaningful trip.