With the modernized industry, it is improving at many levels of each country. Particular attention should be paid to the textile and printing industries, which mostly use die-cutting machines to produce more products in the right sizes and in more quantities.
Almost all products are made in a variety of advanced techniques such as packaging quality, design, logo-cut business cards with striking colors, or some brochures with slots or tabs. In addition, die cutting will often have a sharp tip that acts like a cookie cutter, shaping in a uniform shape of plastic, metal, wood or paper.
If cutting molds on a small scale can be done manually with hand-held die cutting tools or electric machines on the tabletop, otherwise, if cutting molds on a large scale and industrial direction, it will be done on heavyweight machines. Uniquely, die-cutting is a versatile and cost-effective printing method that you have. To better understand the benefits of the die cutting machines, let's find out.
1. What is the die cutting machine?
Die cutting machine is the creation of shapes by cutting materials from the original shape through a tool called a die. On the other hand, a die is a specialized tool used to cut or shape materials to be inserted into presses. Often they have sharp edges used to penetrate materials, especially with custom two-dimensional shapes.
The die cutting operation process is similar to that of a cookie cutter into small sizes. In addition, they can cut a number of die-cuttable materials including paper, fabric, rubber, fiberglass, sheet metal and plastic. Besides, the die cutting machine will use a sharp steel blade and these have been formed into specific shapes.
Using a special machine, will consistently produce a smooth, sharp edge. There is almost no rule about the shape as they are usually cut or molded depending on the job specification. This will raise the quality and reputation of the brands. The die cutting machine can be done on a smaller or larger scale.
Knowing that this type of die-cutting dates back to the 19th century, the early work that craftsmen used to sketch and then cut the soles of shoes with their own hands. And these operations require them to be meticulous and spend a lot of time, including human resources, to work. Back in the future, die cutters were made and they allowed samples to be made to size standards and increased productivity.
Technology has always been upgraded over the years, since then, die cutting machines have been widely used not only for shoe soles but also for manufacturing fields such as packaging, consumer goods, and the automotive industry. In fact, die-cutting machines have a wide variety of features, making them useful for operations other than cutting, such as forming, punching, and scoring. Most of these operations are based on a press through one or a series of swipes.
In addition, flat, rotary and semi-rotary die cutters are known as industrial-scale die cutters, with a thicker and harder surface design to accommodate parts with revolving speeds. In contrast, for manual and digital die-cutting devices, they are mostly used for simple parts and accessories.
2. How does the die cutting machine work?
About how to use the die cutting machine is easy to imagine, you first put the die inside the die cutting die, with the edge protruding towards the paper or card you want to cut. Next, place the part to be cut through the rollers of the die cutter.
Most die cutting machines have handles and they will operate by hand force, which will rotate the rollers to move the part to be cut out between the rollers. Thanks to the pressure created by the rollers, the die's cutting edge is forced through the paper or card to create a beautiful die shape.
Old die cutting machines are thicker than modern molds and have the metal cutting edge of the mold hidden inside a foam backing. In general, these cutting edges are very sharp, be careful not to press on the foam too hard. You can still use these dies, though, but won't work with most die-cutting machines. The useful side is that they can cut through a lot of thicker materials, like cork, felt, and fabric, not just paper and cards.
3. Benefits of die cutting machines
Uniformity of die cutting machines
The form of die cutting is made on many forms that have the same commonality. If you cut off the edges, it will make more of a difference. Uniformity is important for most products that tend to be mass-produced, including operations such as cutting cardboard boxes, cutting plastic to shape toys and electronics, and create vinyl lettering.
Speed of die cutting machines
The advantage of a die-cutting machine is that it can quickly produce many identical shapes at once. Even manual die cutters will create shapes much faster. For industrial die cutting machines will cut faster and more with many similar shapes and sheet metal or plastic can be fed into the machine quickly. Accelerate the production process.
Limit waste from materials of die cutting machine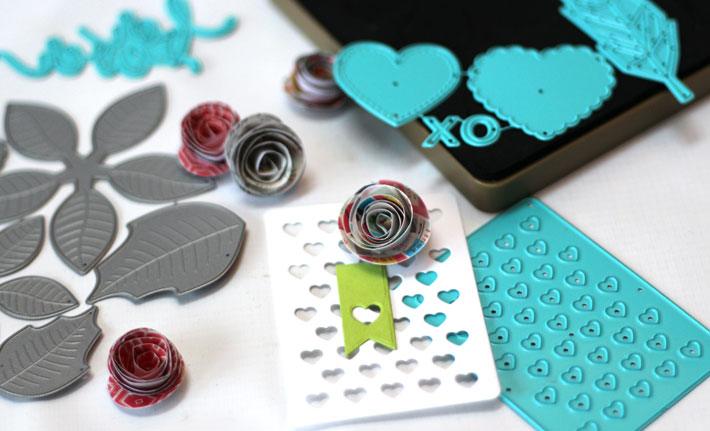 Die cutting will help production sites to limit or use less wasted material compared to other methods. Prove that this will be more cost-effective and efficient, taking less time to do by hand. On the other hand, a die-cutting machine can produce many uniform shapes, from which the measurement of sizes and corners of plastic sheets becomes more refined.
Besides, traditional die cutting machines will also produce shapes quickly such as creating quite complex shapes with multiple cuts and multiple die cutting layers will produce creative shapes. and even for folds on cards and plastic. Also, the die cutting machine will leave little waste around the shapes since they can be lined up very tightly. From there, you can save a part of costs and reduce wastes released into the environment.
Unique cutting features of the die-cutting machine
Almost all die-cutting designs allow them to offer versatility, and design features unmatched by any other die-cutting machine. Like a number of die-cut products from small logo pieces to unique die-cut items that appeal to customers ranging from casual greeting cards to intricately cut greeting and holiday cards. This is a new form that manufacturers want to put in their products to attract customers to know about their machine products.
4. Let's have a look on a very cool Cricut product die cutting machine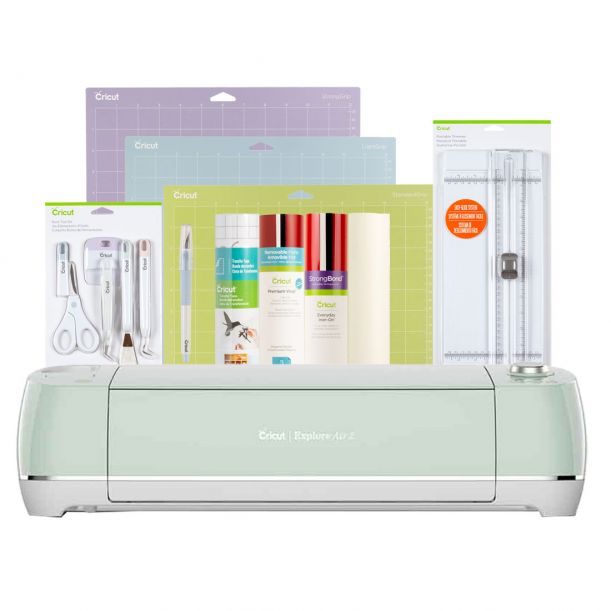 With Cricut's original purpose of helping people to work creatively through the use of products we provide tools to make user work schedules convenient in modern life today. And when we came up with the concept of building the first cutting machine, a vision of a simple tool with the potential to completely change the way people think about manufacturing and design.
This helps Cricut continuously innovate the way it looks and create new machines, materials and tools that give meaning and uniqueness to the user. Along with a team of enthusiastic employees in creative work, we believe that we will always update and change to be more suitable for consumers.
Here is one of the products that we would like to introduce to you. Cricut Explore Air™ 2 can cut over 100 different materials including cardboard, vinyl and iron for special materials such as glitter paper, cork and bonded fabric.
This is a product known for its six tools that allow users to increase precision in cutting, writing every detail, including scoring on bars. Referring to the Cricut Explore Air 2, they have smooth blades for cutting a variety of handcrafted materials. On the other hand, the machine acts as a foil transfer tool to provide additional second-level foil trimmings. Besides, the die-cutting machine is also equipped with a scoring pen and a deep-cut blade to make cutting more convenient.
Conclusion
Through the information above we have outlined a number of benefits to using a die cutter, whether you are a beginner in die cutting or are from manual die cutting manufacturers switching to automatic die cutting machines.
Note that die cutting machines can have many forms and also depending on the purpose of each individual use, they will work in many different forms. Usually rotary die cutting and laser die cutting are the two main processes used by most printing companies.
Usually industrial-style die-cutting machines are very expensive and are capable of creating eye-catching custom die cuts quickly. In contrast, manual die-cutting machines are for individuals and craft items.
In fact, rotary die cutters have to be customized to cut through the substrate. From there the rotary dies can produce various cuts. That's the information we want to send you. Below are some product links you can refer to to choose for yourself a good product. Thanks for reading my reviews.