A toiletry bag is one of the essential items that any trip needs to bring with you.
The toiletry bag not only stores small hygiene products but also organizes them logically to save time searching for those things.
But to choose a toiletry bag that suits your needs can be a lot of thought in today's huge toilet bag market. So don't worry as this article will discuss and show you how to choose a toiletry bag that suits your needs.
1. Size of toiletry bag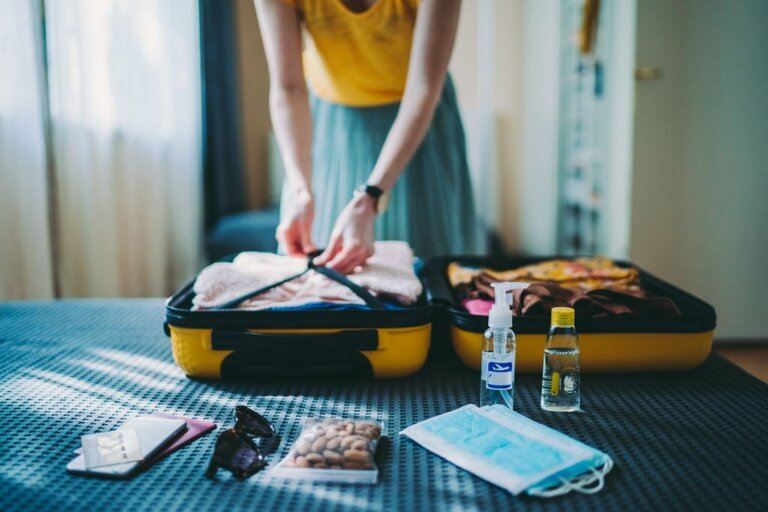 Overall, a small toiletries bag is great for travel. Perhaps this concept is not suitable for some activities like if you have a long trip or traveling with family, the small toiletries box may not carry enough things.
Therefore, it can lead to complications and bring a lot of uncomfortable feelings during your stay.
So you should choose a toiletry bag that is just the right size for the number of days you go on your trip or calculate the number of people traveling with you.
Family size
You should choose a large toiletry bag with many different compartments for family use.
It's a place to keep everything in the family bathroom in one place. So your family can travel without carrying too many toiletry bags. Dimensions about 30x15x21 cm or 25x15x17 cm, with the included 5-compartment design, suitable for any member's variety of bottles, tubes, or boxes.
Personal size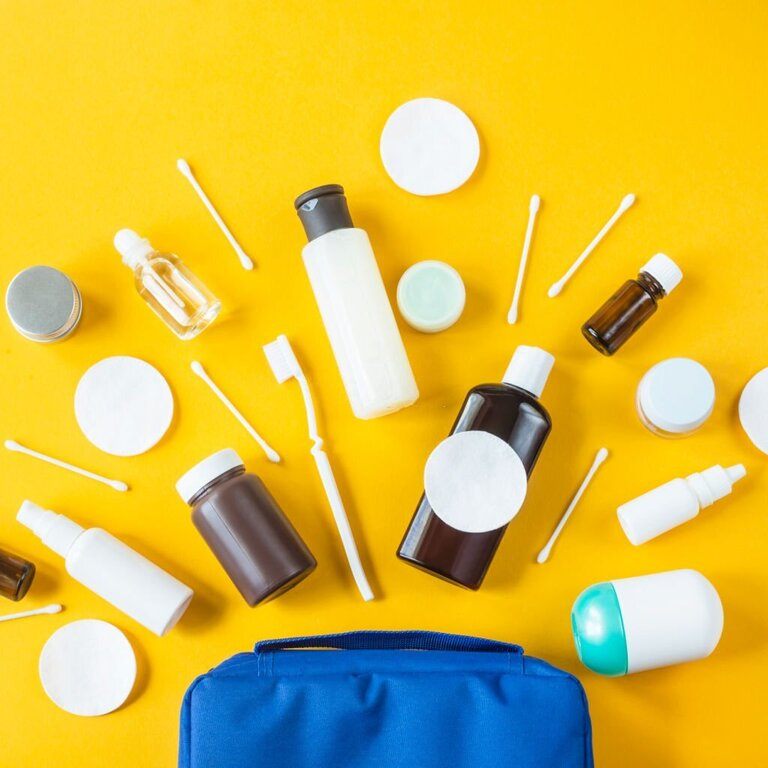 For those who plan to travel alone, and want to pack the basics. A Dopp set or a multi-pocket as long as it has enough space to hold hygiene products.
What's more, a cat to hold and help you carry your favorite products without carrying around large bottles is to use travel bottles. This will create more space in the toiletries bag.
2. Material of toiletry bag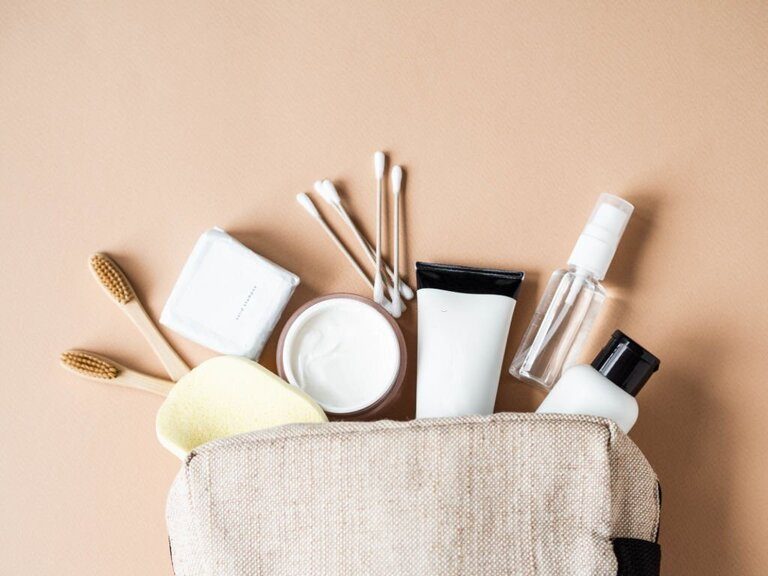 Along with the criteria of style, the material is a big point to consider when choosing a toiletry bag. Therefore, if it is intended for travel, it is advisable to buy a toiletry bag with a material such as durable, waterproof, and easy to clean. Some materials are plastic, waterproof fabric, leather, and canvas. But, each one has its both pros and cons.
Plastic
In terms of usage, the plastic bag is easy to clean, waterproof and transparent. Very suitable for you to go abroad, but they are very easy to fade if left in direct sunlight. So you need to take care of your bag regularly to make it look beautiful.
At the same time, plastic is mainly used in the making of TSA-approved travel kits because it is transparent. TSA is easy to check from the outside.
Waterproof fabric
This is the most popular material for making bags because of its tough, waterproof, and countless colors and designs to choose from. There's even a cool pattern that makes the bag look more modern. But its advantages can be torn with age (long use time).
Leather
Overall, the leather material is very durable, easy to clean, and looks very fashionable as well. However, it can be damaged if it gets wet.
If you don't want to take it to a place with a lot of water. It is more easily damaged. You'll have to change quite a few bags if you do.
Canvas
This material is quite popular because of the variety of designs, colors, and prices. Many healthy sets made with this fabric have an image or printed on the fabric. Therefore, you need to keep the burlap toiletry bag away from liquids like watercolors, ketchup, soy sauce to ensure them.
3. Design of toiletry bag
There are countless styles of toiletry bag designs on the market and most of these designs will be dictated by the number of pockets, compartments, or design of the toiletry bag.
Multi-pocket toiletry bag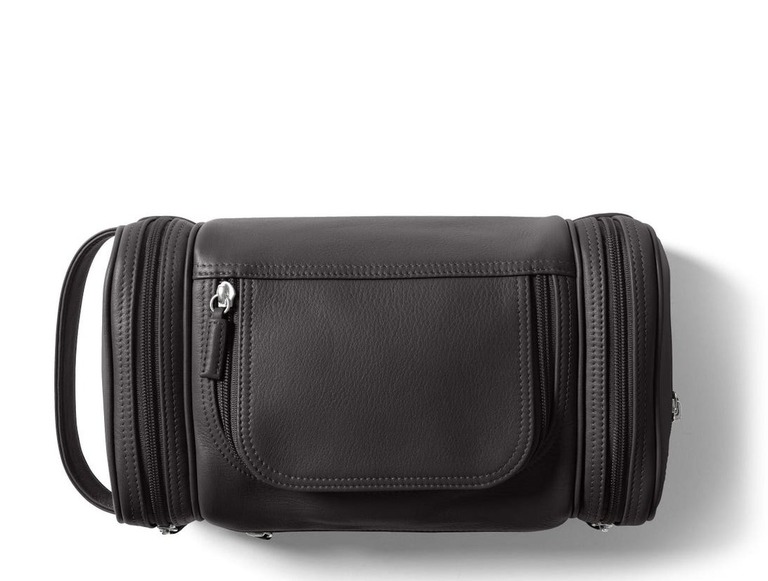 If you're planning a trip with lots of knick-knacks, then a toilet set with multiple compartments is the preferred choice. This kind of bag design can help you to store bottles, canisters, medicine cases, small phone accessories, and so on.
There are indeed bags of different sizes and shapes to suit your needs. From there, your preparation will be well optimized and can save time when searching for stuff the first time.
Dopp set or 1 compartment toiletry bag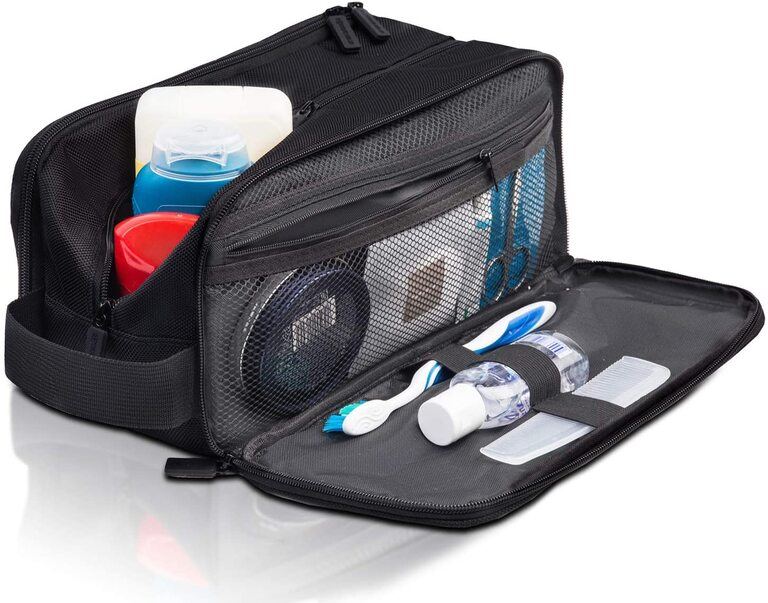 When you want to carry some daily essentials like shampoo, toothbrush, toothpaste, makeup tool combo or do you take out your travel suit, drop all the supplies, and pick the one you want? A single compartment bag or a Dopp set will be your optimal choice.
They are designed with 1 main, large compartment, so the Dopp set saves space for the backpack. At the same time, this toilet set is quite portable because most are small.
Therefore, you can easily take it everywhere. Perfect for hiking or camping.
Toiletry bag in roll, hanging form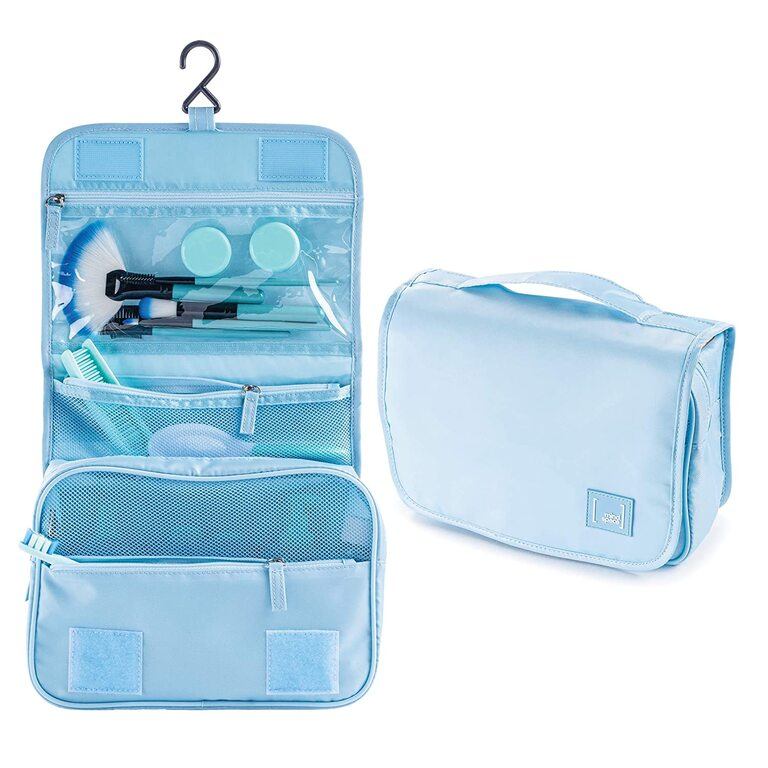 With a multi-pocket design for some items, especially many small items. Overall, it's quite compact as it can be rolled up into a unique, space-saving form when you put it in your luggage or backpack.
Another plus we recommend is that it has a hook so it's easy to hang the bag in the bathroom or anywhere.
It is not picky about users because it is suitable for use by both men and women.
Drawstring travel bag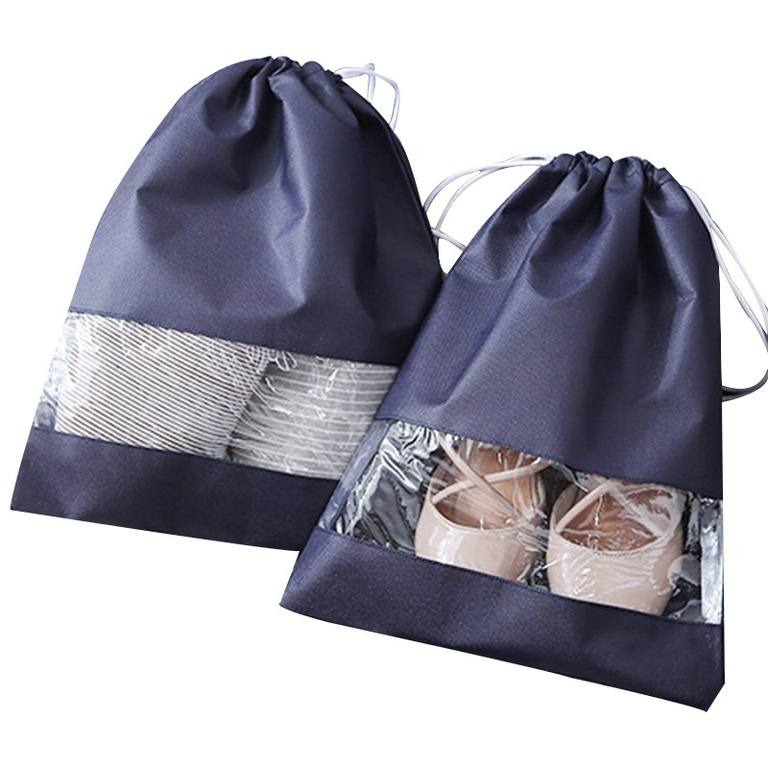 The Travel Pouch drawstring bag is a type of toiletry bag, that is, some of the women's makeup. It is a big round bag with some strings to keep everything inside from falling out.
In particular, it is very easy to use, saving time for those girls who get up late and do not want to rummage through every corner of the toilet bag to get makeup tools. The price of this bag ranges from $7 to about $30.
Conclusion
The best toiletry bag will support you to store personal and family items when starting travel, business,...
However, you need to keep a few factors in mind when buying a product, including size, material, and design.